Because the FixMeStick is a bootable USB device, you can boot directly from the FixMeStick.
Here is a step by step guide on how to do so!
Step 1: First turn ON your computer and plug in your FixMeStick. Open and launch the FixMeStick.exe program. Click here for more information. Next, locate the F12 button on your keyboard: F12 is normally positioned on the top row of the keyboard.
Note: F12 might not be the appropriate key for you. Click here to jump to a list of computer models and corresponding hotkeys.
Step 2: After clicking 'Reboot and Start FixMeStick,'wait for your computer to turn off and continually tap F12 until the BOOT MENU pops up. If Windows starts regularly, then it's likely you have a different boot menu key. Please turn off your computer (by holding down the power button for 5 seconds) and repeat "Step 2" again, but this time with F2, F10, Delete, ESC, or the applicable key for you in the boot menu chart below. 
Step 3: On the BOOT MENU you should see the option FixMeStick or an option with the word USB.
Step 4: Locate the DOWN arrow key and the ENTER key on your keyboard. Press the DOWN key until you reach FixMeStick and it is HIGHLIGHTED and then press ENTER.
Step 5: The FixMeStick should now begin to run.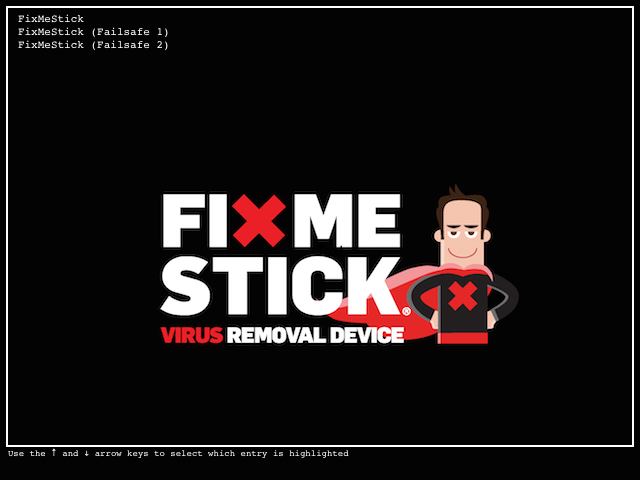 Step 6: Once the FixMeStick begins, allow the FixMeStick to check for and apply updates. After it applies any updates, your scan will begin. The scanning process may take several hours.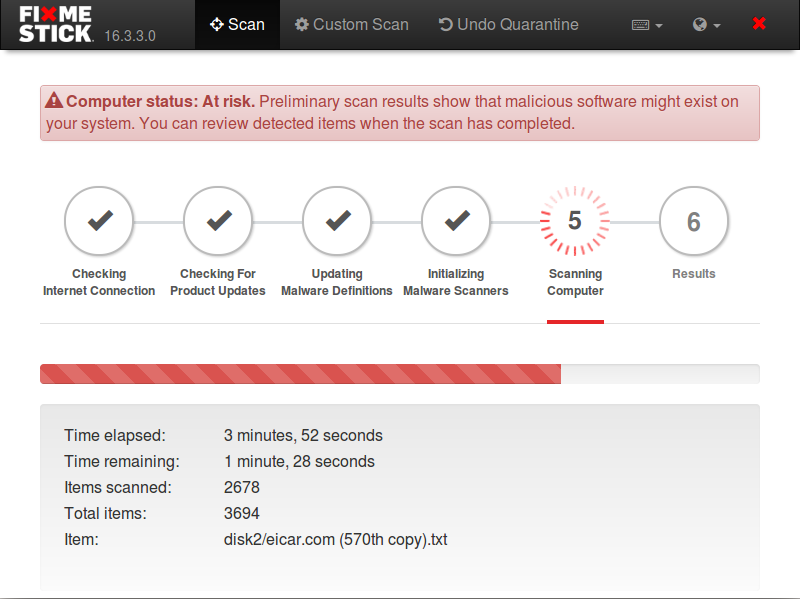 | Manufacturer | Boot Menu | Additional Steps |
| --- | --- | --- |
| Acer | F12 | For models Aspire v3, v5, v7: The "F12 Boot Menu" must be enabled in BIOS. It is disabled by default. Tap F2 on startup and follow these steps. |
| Apple | Option |   |
| Asus (Desktop) | F8 |   |
| Asus (Laptop) | Esc |   |
| Compaq | Esc or F9 |   |
| Dell | F12 |   |
| eMachines | F12 |   |
| Gateway | Esc or F10 |   |
| HP | Esc or F9 |   |
| Intel | F10 |   |
| Lenovo (Desktop) | F12, F8 or F10 |   |
| Lenovo (Laptop) | F12 or Fn + F11 |   |
| NEC | F5 |   |
| Packard Bell | F8 |   |
| Samsung | F10 |   |
| Sony | F11 | Some Vaio computers have an ASSIST key on the keyboard. If yours does, turn the computer off, press ASSIST, and then F11 for the boot menu. |
| Toshiba | F12 |   |