In this article, you can learn how to gain access to your FixMeStick account, and learn about all the benefits of using it.
What is the FixMeStick Account?
Your FixMeStick account is a way for you to see all of your subscription information and all information about your FixMeSticks, view our referral program, usage rewards program, and see all exclusive discounts offered to FixMeStick customers.
Why do I need a FixMeStick Account?
FixMeStick Account Information
You can see all information related to your account, as shown below. This includes the email associated with the account, the subscription information, the number and names of computers used on, when it will expire, and recent scan information.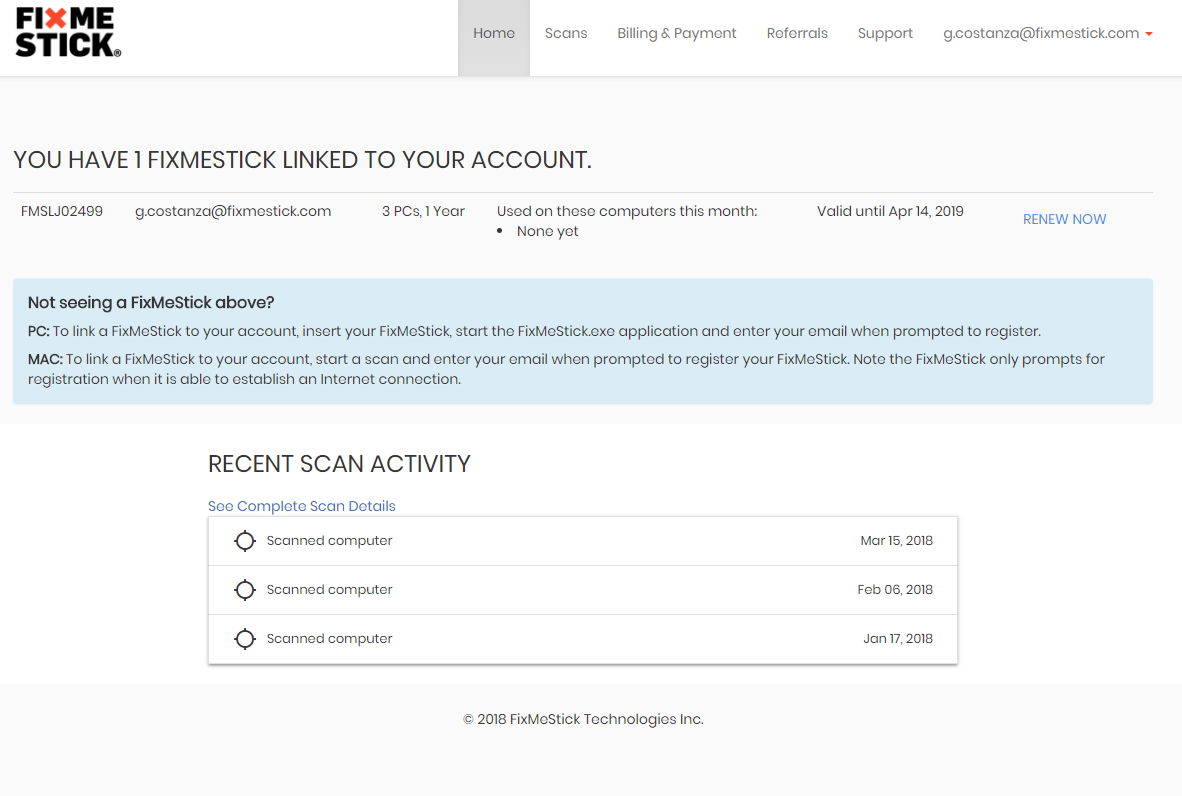 FixMeStick Referral Program
You can now refer your friends to use FixMeStick, and both parties will benefit. If you refer a friend and they purchase:
For Lifetime customers - you each get an additional computer added to your subscription

For yearly subscribers - you each get an additional month added to your subscriptions
If you refer 10 new customers, you will become a FixMeStick VIP, and receive a free gift!
You can refer your friends by going on your FixMeStick Account, under the "Referrals" tab, and share your referral code with them, as shown below.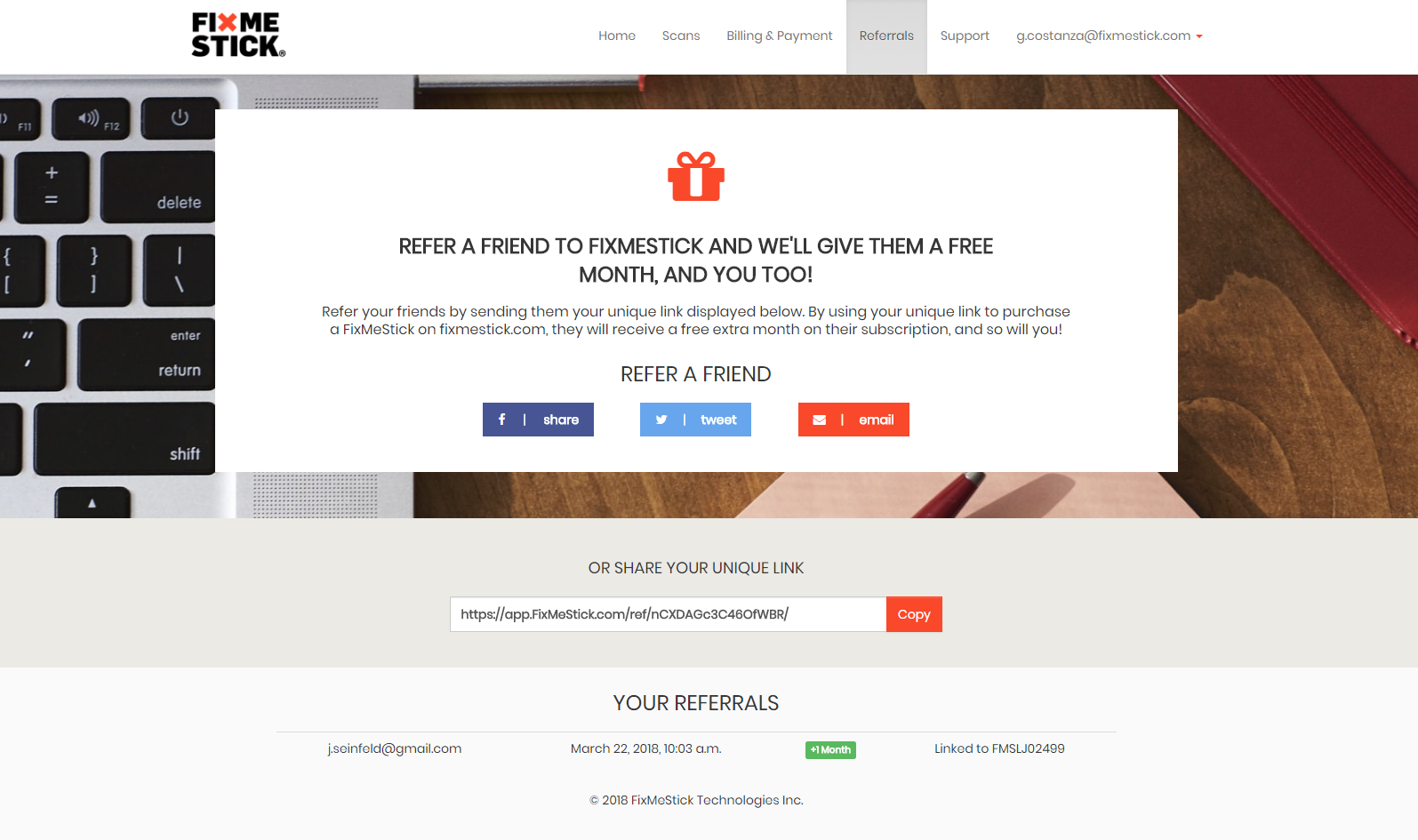 FixMeStreaks
For yearly subscribers, every time you run a scan in a different month, you will get a star. If you get 12 stars (12 months in a row with a scan), you will get a free month added onto your subscription! You can see your scan streak on the FixMeStick account, under "Scans".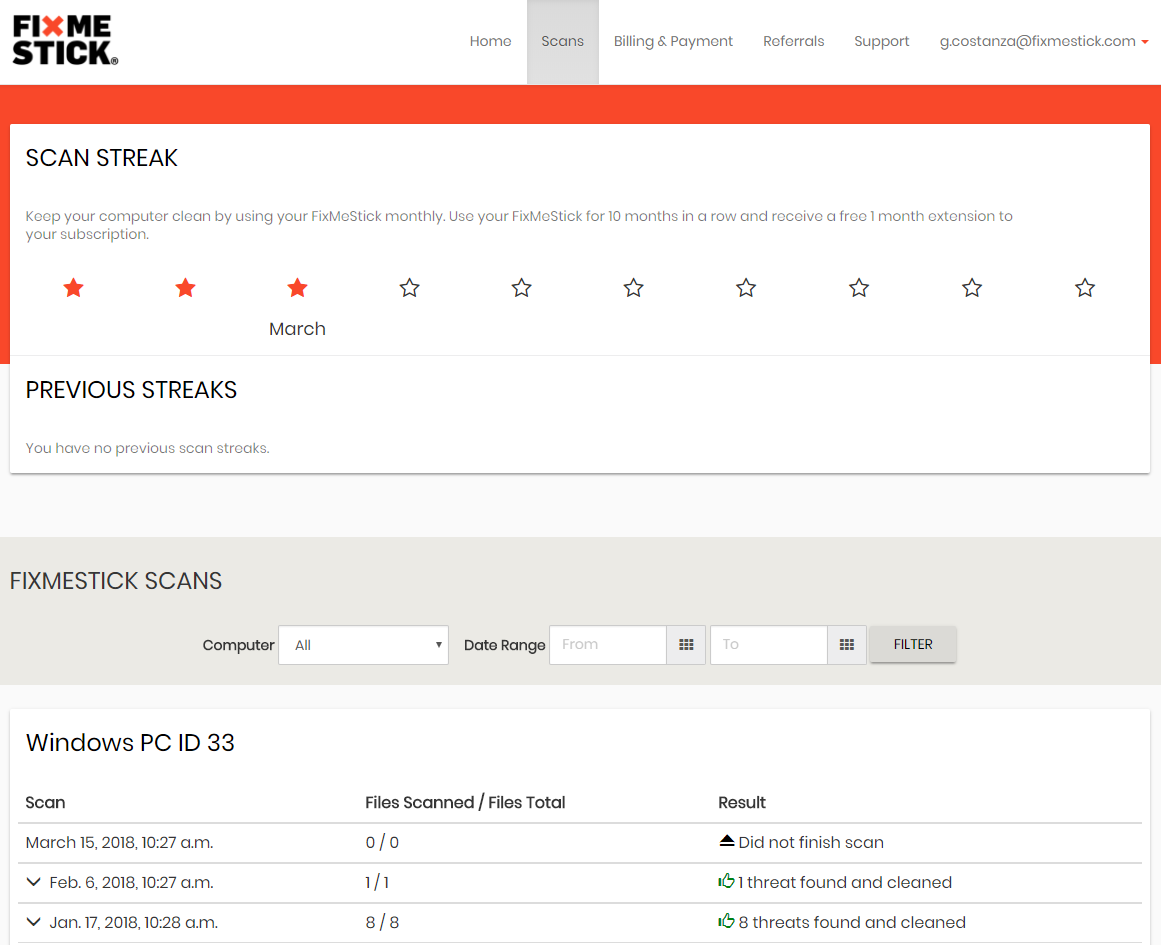 Exclusive Offers for FixMeStick Customers
As a FixMeStick customer, we want you to have a complete cyber security toolbox. This is why we offer exclusive discounts on partner products such as McAfee Total Protection antivirus, SOS Online backup, Dashlane Password Manager, and System Mechanic - click their links to learn more! You can see these exclusive offers in your FixMeStick account under the "Home" tab, at the bottom of the page, as shown below.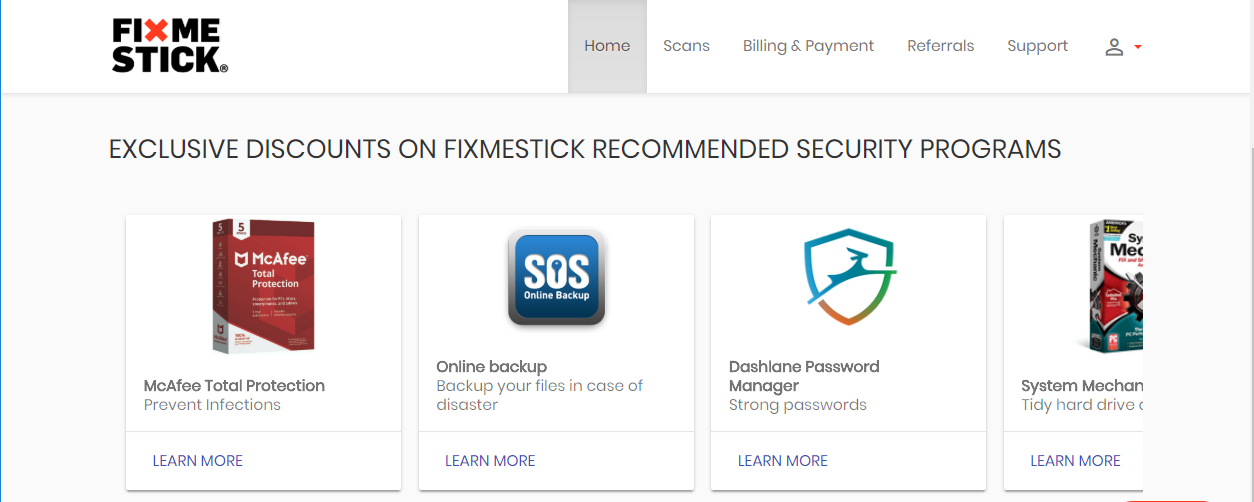 How do I access my FixMeStick Account?
Online
Click

here

to access your FixMeStick Account.

If you already have an account, type in your email and password into the box and click

Login

.
If you do not already have an account, click

Get a password.



Under

Please set me up with a password

, type your e-mail address and click

Email me a new password.

You will receive an email with a password to use to log into your FixMeStick Account, using the same email address you just input.
On the FixMeStick.exe Application
If you open the FixMeStick application, you can see your account under the "Account" tab, which will bring you to the FixMeStick account page online, as shown below.