In this article, we explain the process of locating your product key, as well as activating and installing your NordVPN subscription after purchasing a FixMeStick and NordVPN bundle on a TV Shopping Channel.
Tip: If you need help with any other issues concerning your NordVPN subscription, you can contact NordVPN's customer support by clicking here. Please let customer support know you purchased NordVPN as part of a bundle with FixMeStick. 
Index:
Downloading and Installing NordVPN
When you purchased FixMeStick from a TV Shopping Channel, you would have been sent an insert in your package that contains your product key for NordVPN. The image below shows the insert you would have received: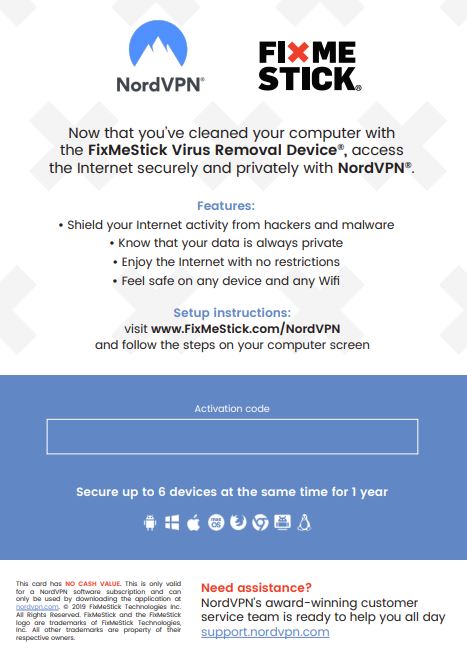 Note: This insert and corresponding product key is valid for one time use only. If you experience difficulties downloading and activating your NordVPN subscription and require an additional product key, please contact NordVPN's customer support by clicking here.
Downloading and Installing NordVPN:
1. Click here to visit the activation site for your subscription. Once you're there, you will see a space to enter your product key, located on the insert that came with your FixMeStick bundle.
Enter your product key in the space provided, and click NEXT.
2. The following page will ask you to create an account. You'll need to enter your email address in the space provided, as shown in the image below.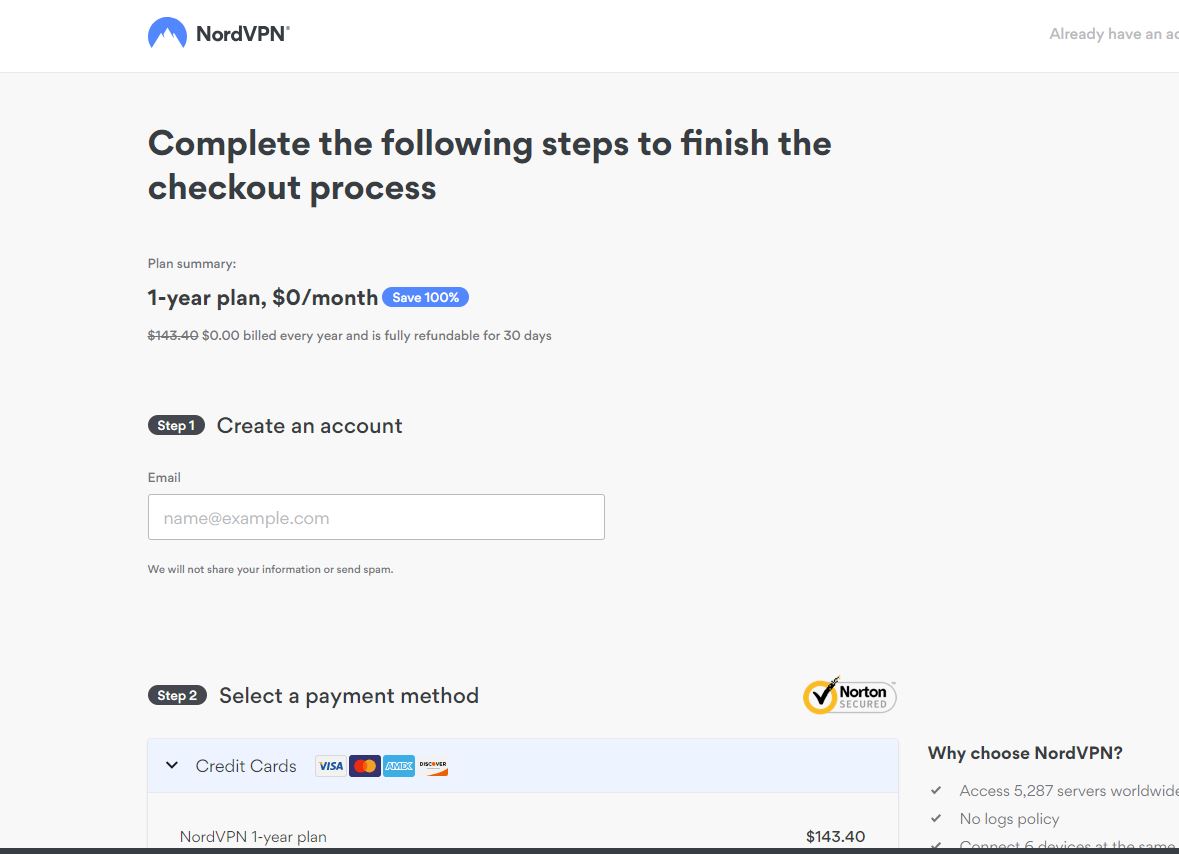 Input your credit card information, as shown in the image below.
Note: You will not be charged the amount shown of $83.88 ($6.99/month annually), this will be the price after one year if you wish to continue using NordVPN. You will be charged $0.50 for activation. This is fully refundable by contacting NordVPN here.
Once you've entered your payment information, click Continue.
3. An email will be sent to your inbox confirming your new account and with a password reset. Check your email to reset your password and continue with the activation process.

The email will appear as follows: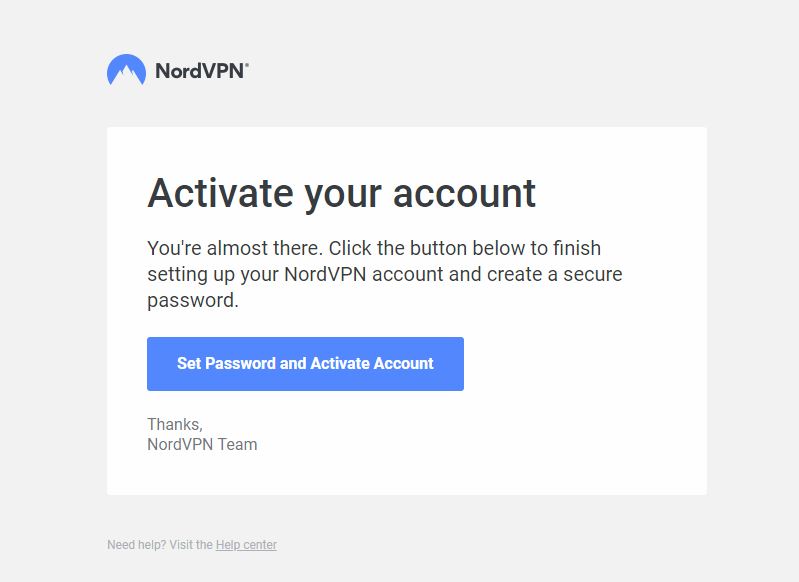 4. In the email, click on Set Password and Activate Account. You will be brought back to the activation page, which will now automatically download the NordVPN Setup wizard. This will appear as a download box in the bottom left of your screen, as shown in the image below: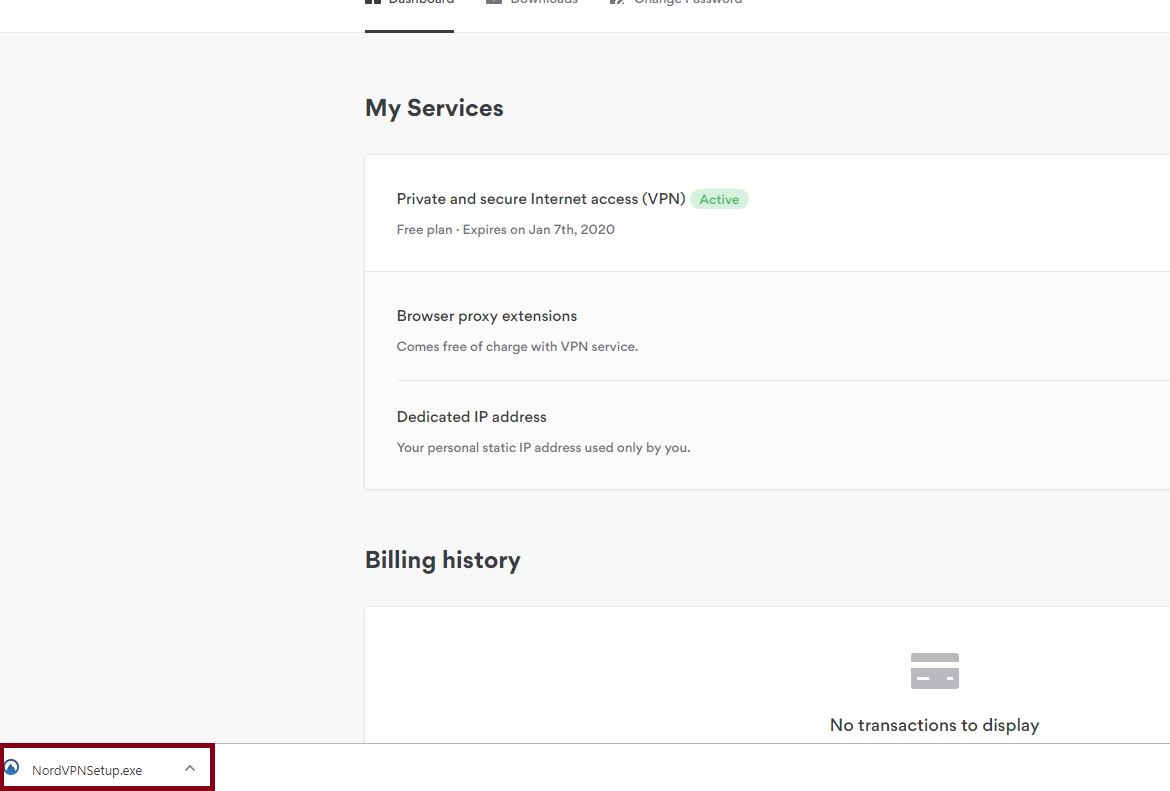 Click on the download box, which will contain the words NordVPNSetup.exe. This will open the Setup Wizard, as depicted in the image below: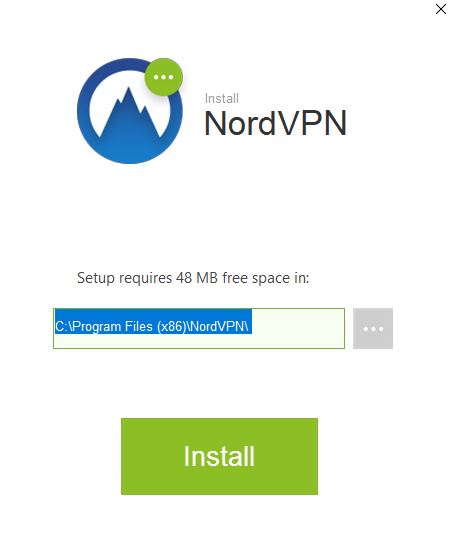 5. Click on Install. From here, the program should begin to download onto your system.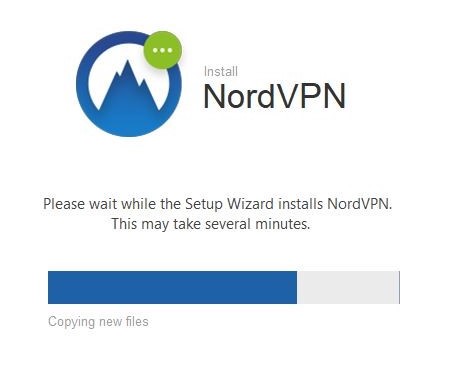 6. When the program is finished downloading, you will receive another page asking you to login with the email you signed up with and the password you created.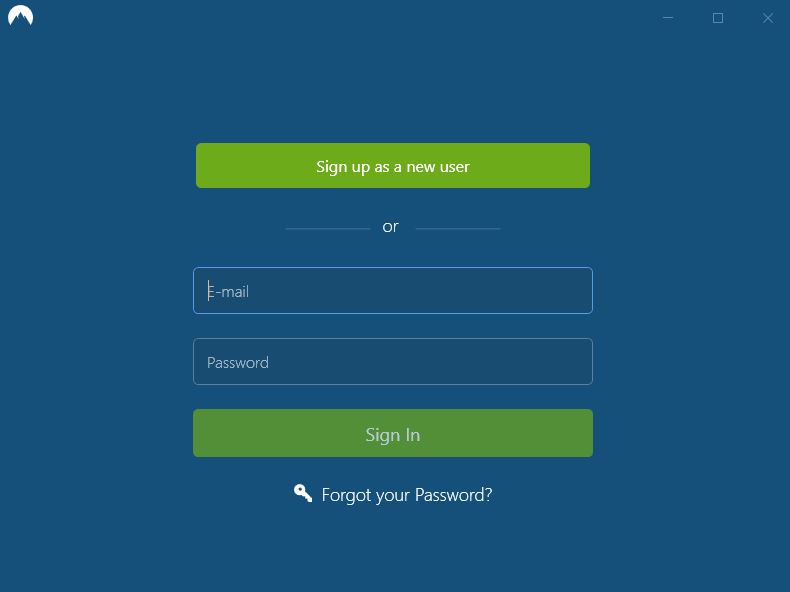 7. After you login, you will see a window with a list of different VPN connections based on location. Select your preferred country using the list on the left-hand side, or click on Quick connect to let NordVPN find your country for you.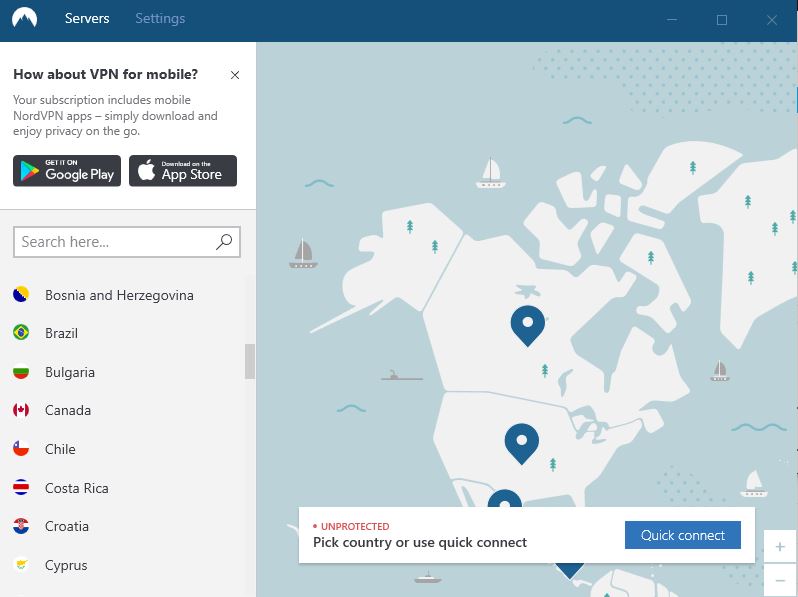 8. Once you're connected, your NordVPN account is all set up! Your computer's activity is now being protected through NordVPN's encryption program. The program will appear as shown in the image below: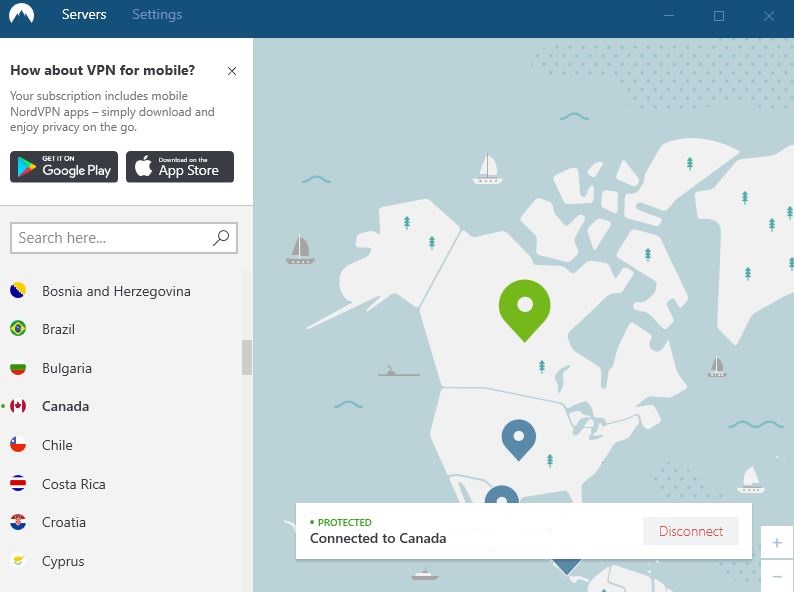 1. Why do I have to input my credit card information when downloading and activating my NordVPN?
Like FixMeStick, NordVPN works on a yearly subscription basis which opts you into automatic renewals when you sign up for the product.
If you received a free year of NordVPN with your FixMeStick purchase, you will not be charged for the first year of your subscription. You are simply required to input your credit information for next year's payment.
If you would like to cancel your automatic renewal for next year, please contact NordVPN customer support by clicking here.
What is a VPN and why do I need it? 
A Virtual Private Network, or VPN, acts like a tunnel so you can exchange data securely, and anonymously across the internet. How it works is that data going between a connected device, like your laptop, and a VPN server is encrypted, and as a result, any application running on the network is secure and private.
What many people don't know is your home Wi-Fi network can be just as unsafe as a public Wi-Fi network. Home routers can be infected and become compromised, affecting your security and privacy. An additional layer of security provided by a VPN can keep hackers, cyber criminals, and data thieves away. 
3. How does NordVPN compare to other VPN programs?
With 5 out of 5 stars on PCMag, this is a top tier VPN service. You can use NordVPN on 6 devices simultaneously plus it includes an ad blocker that also blocks web threats for good measure. Included is its military grade security so your data is protected from hacking and surveillance, and all without compromising the speed or strength of your internet.
4. Are NordVPN and FixMeStick compatible on my computer?
Yes! The FixMeStick is designed to be compatible with NordVPN as well as other VPN services. In fact, we encourage you to use both these cyber security tools to stay as safe as possible when you're browsing online!
1. If you are experiencing difficulties with your NordVPN subscription, you can contact customer support by clicking here.
2. To learn how to setup NordVPN on a wide range of other platforms, click here.