In this article, we explain the process of locating your product key, activating, and installing your Dashlane Password Manager subscription after making a purchase on www.fixmestick.com.
Index
Downloading and Installing Dashlane
Once you have purchased Dashlane from FixMeStick.com, you can log in to your email inbox.  You will receive two emails from FixMeStick.
1. The first email from FixMeStick is a receipt of your purchase:
2. The second email from FixMeStick will have the subject title: Action Required: Download and activate your purchase of Dashlane Password Manager, click to open this email.
In either email, you can left click the activation link to access your

promotional code.
3. To redeem your Dashlane Password Manager promotional code, follow these steps:
 Once you have clicked the activation or download link in your email, you should see this activate page:
Left-click the button with the icon of a copied page that is next to the 12-digit product key to copy the key, or highlight the product key and press CTRL + C on your keyboard (step 1 in the screenshot).
Left click on dashlane.com/redeem to redeem (step 2 in the screenshot).
4. Create an account with Dashlane Password Manager
Enter your email address to create your Dashlane account, double-left click

Submit.
5. Confirm your email with Dashlane Password Manager
Confirm your email address by entering the same email address twice, then double-left click Submit.
6. Enter your 12-digit product key for Dashlane Password Manager
Single right-click in the rectangular white space, then single left-click Paste to enter your 12-digit product key.
Or press CTRL + V on your keyboard to paste.
Double-left click Redeem.
Downloading and Installing Dashlane
You have successfully redeemed your Dashlane promotion! Now follow these steps to download Dashlane Password Manager onto your computer:
Double-left click Get Dashlane, and the application will download onto your

computer.
1. Open the downloaded Dashlane Password Manager application
Double-left click DashlaneInst.exe in the bottom left corner of your browser.
If it does not appear there, go to your Downloads folder and look for DashlaneInst.exe.
Double-left click DashlaneInst.exe to run.
2. Dashlane will begin installing on your computer
Allow Dashlane to install on your computer, the progress bar will go completely

green, and Dashlane Password Manager will automatically launch.

 
3. Login to Dashlane Password Manager
A login screen will appear on your desktop.

Enter the email that you used to create your account.

Enter your password.

Double-left click Log in.
4. Welcome to Dashlane Password Manager
Welcome to Dashlane, double-left click Next.
5. Dashlane Password Manager Keeps your Passwords Secure 
Dashlane keeps your passwords secure, double-left click Next.
6. Your Master Password
One Master Password will unlock all of your passwords, double-left click Next.
7. Searching for Passwords
Dashlane gathers all of your saved passwords from your internet browsers,

double-left click Review Your Passwords to see the compilation.
8. Review Your Passwords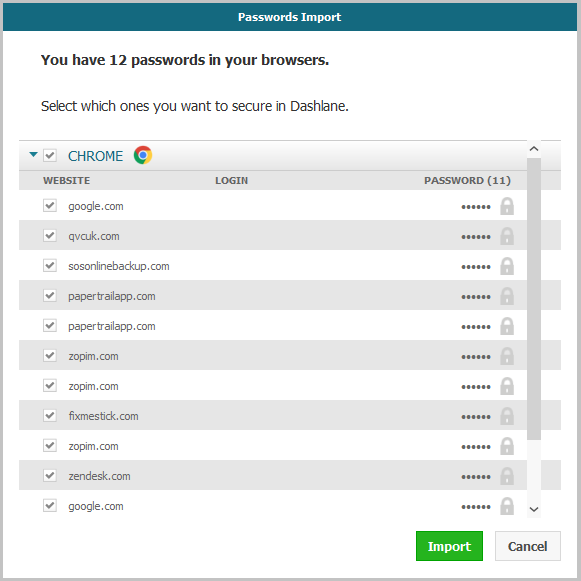 Dashlane displays the passwords that you have saved to your internet

browsers, which will automatically be checked in the list of boxes on the 

left-hand side, as passwords that you would like Dashlane to secure.

If you do not want Dashlane to secure certain passwords, you can single-left click the check mark in the box to uncheck, and Dashlane will not secure that password.

When you have customized which passwords you would like Dashlane to secure, you can double-left click Import.
9. Add Dashlane Password Manager to your Internet Browsers
To add Dashlane to your browser, double-left click Add Dashlane Now to activate.

Dashlane will add an extension to all of your browsers such as Internet Explorer, Microsoft Edge, Firefox, and Google Chrome that automatically enters your passwords into your online accounts.

 
Learn How Dashlane Password Manager Works
Learn how to manage your passwords, double-left click Show Me The Steps.
1. Continue to add Dashlane to your internet browser
In order for the Dashlane extension to be applied to your browsers, you need to

double-left click Add in the pop-up that appears.
2. Confirm Dashlane Browser Extension
A pop-up will appear to confirm that you would like to add Dashlane

Password Manager to your internet browsers.  Double-left click Add Extension

to confirm.
Double-left click See What Dashlane Can Do to learn more about how this process works.
4. Register your information with Dashlane Password Manager to automatically fill out online forms 
Save time with future online registrations by entering your personal information, Dashlane will autofill these sections to make creating accounts or making purchases fast, easy and secure!

 
5. Dashlane Password Manager is successfully installed on your computer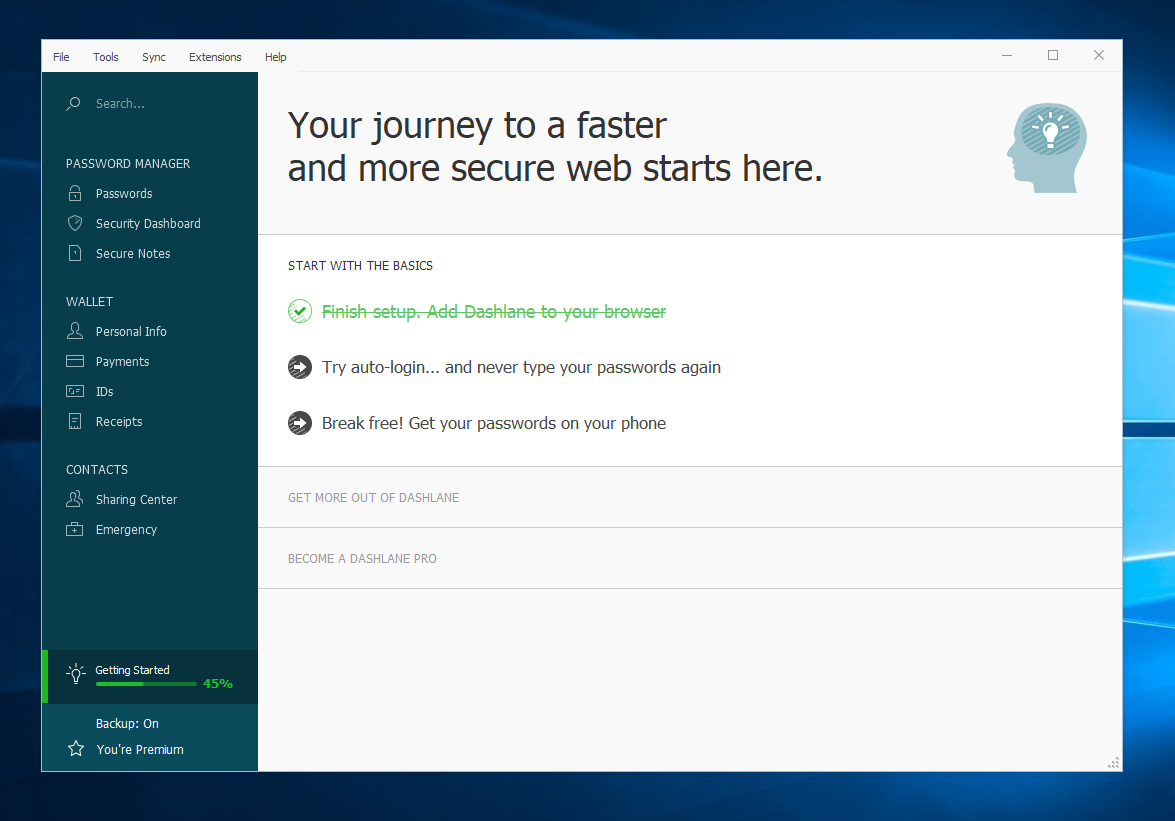 The getting started process is on its way!
6. Explore the categories of Dashlane Password Manager to update your profile
Review the categories to confirm or enter information to make your internet

browsing experience faster and more secure.
For directions on installing Dashlane Password Manager on different devices, please visit the Dashlane Knowledge Base

here

.
Dashlane Support Article: How To Install
Dashlane Video Support: Dashlane Youtube Channel
Contact Dashlane Customer Support
FixMeStick Blog: Are You Using One of the 100 Worst Passwords of 2017?