While FixMeStick is extremely effective at removing viruses, trojans, and malware, there are some programs that our product might not remove because they can be classified as "grayware" - it falls in between malware and legitimate software. It was not removed because our engines do not classify it as malware.
Some software programs come bundled with optional programs that are automatically installed when you agree to the terms of service.  These optional programs are often not classified as viruses, but can perform unwanted actions such as tracking your browsing and/or bringing up pop-ups. Here is a guide on how to remove leftover items like these.
Have a PC? Click here.
Index: 
  Uninstalling Applications on a Mac
Setting Up a Remote Connection
  Allowing FixMeStick QuickSupport to Open
In some cases, unwanted browser add-ons like search bars and re-direct extensions can cause pop-ups or for your web browser to not function properly. You can easily solve this by resetting your web browser to its default settings.
1. Open a Firefox page and click the icon that looks like three stacked lines at the top right of the browser window.
2. Select the question-mark icon at the bottom of the drop-down menu.
3. Select Troubleshooting information in the slide-out menu.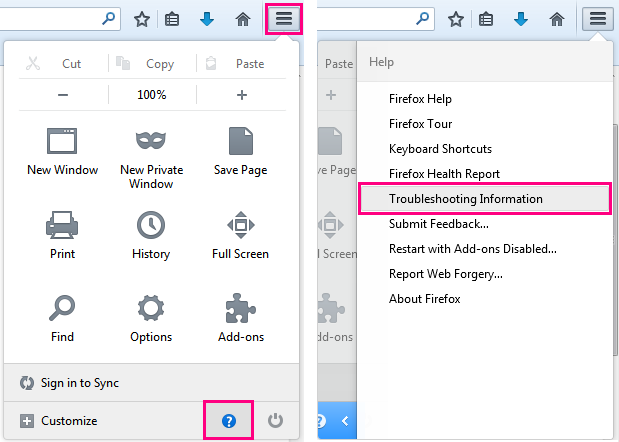 4. Select the Refresh Firefox… button at the top right of the new Web page.

5. Select Refresh Firefox in the confirmation pop-up window. It will automatically restart your browser and let you know that it was refreshed successfully.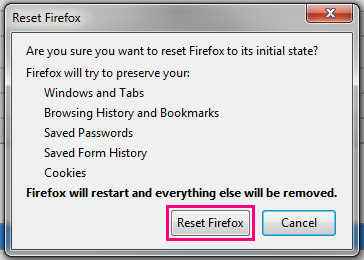 1. Click the icon that looks like three dots in a vertical line at the top right of the browser window.

2. Select Settings.
3. Scroll down as far as you can, and click on Advanced settings at the bottom of the Web page.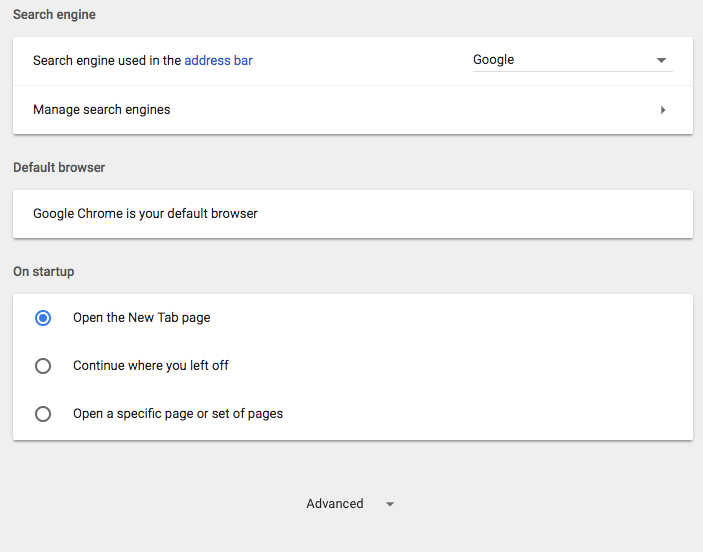 4. Scroll down as far as you can once more, and select Reset browser settings at the bottom of the page.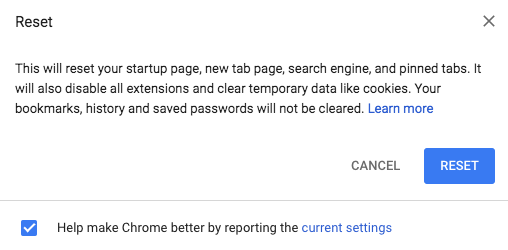 5. Select Reset in the confirmation pop-up window.
1. Open a Safari web page, and in the upper left-hand corner of your screen, click on Safari in the toolbar. Then click Preferences.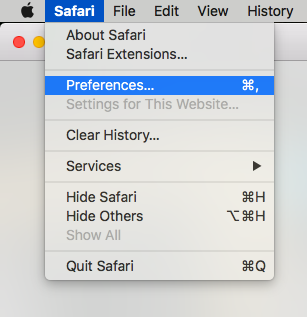 2. Click on the Privacy tab, and then select Manage Website Data.

3. Click on Remove All.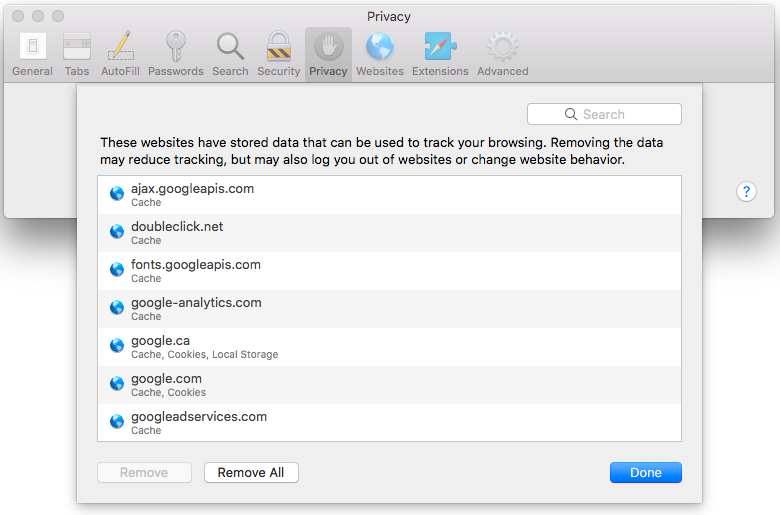 4. Click Remove Now, and then click Done.

5. Now click on the Extensions tab, and uninstall any extension that you do not recognize.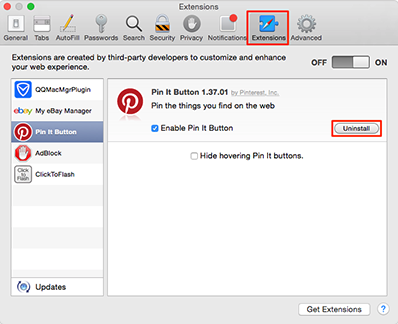 6. Close Safari Preferences, and restart your browser for the changes to take effect.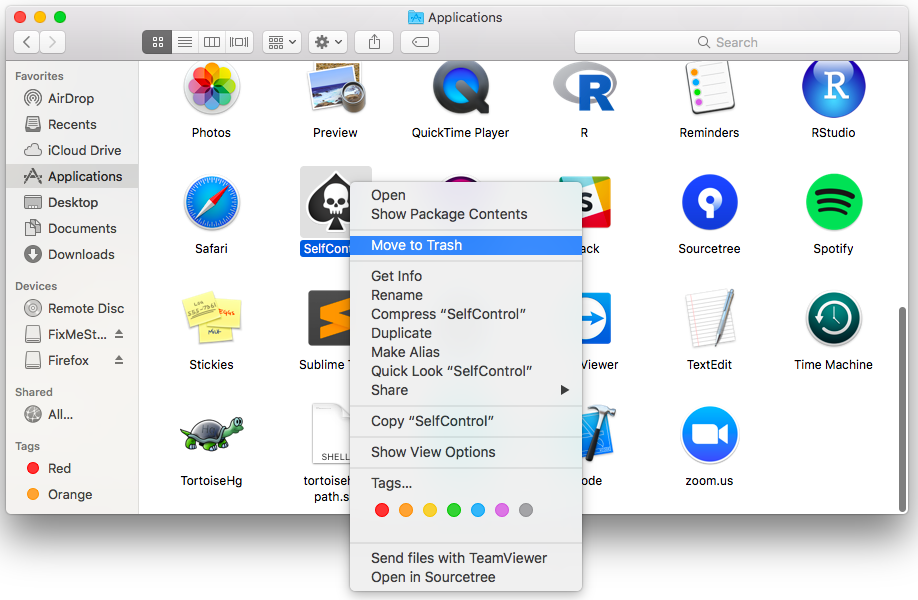 Setting up a Remote Connection
Sometimes after running a FixMeStick scan, you will experience an issue that we can solve much more easily through establishing a remote connection to your computer. This allows us to see exactly what you are seeing, and provides us with direct access to your Mac to help you complete any necessary troubleshooting steps. In these cases, we send you an email that includes a link to download a program. Once you have received the email and clicked the link to begin the download, follow the instructions below.
1. Access the downloaded file by opening a new Finder window, and then clicking on the Downloads folder.

2. Double-click on connect.dmg, and then double-click on the FixMeStick QuickSupport icon in the new window that appears.

3. Allow the application to run by clicking Open.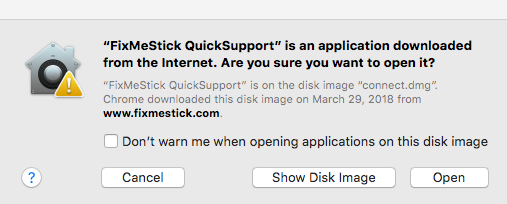 4. A window will appear that says Allow Remote Control and shows an ID and password, which you will then send to the FixMeStick customer support agent who is assisting you.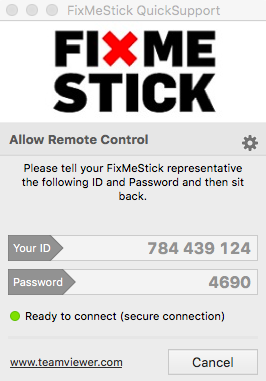 Allowing FixMeStick QuickSupport to Open
Sometimes when you are trying to set up a remote connection, you will receive an error message from your computer that you are unable to open the program we've sent.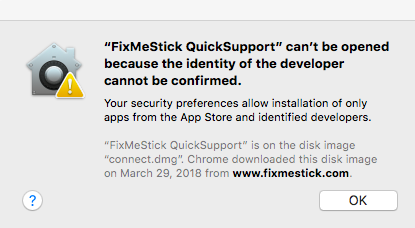 Follow the instructions below to provide permission for the application to run:
1. Click OK to exit out of the message, and then open your System Preferences.

2. Click on Security & Privacy.

3. On the General tab, click Open Anyway towards the bottom of the window. Now you will be able to double-click on FixMeStick QuickSupport and open the application using the instructions above.