In this article, we will explain what steps you should take in the event that EFI Boot does not appear in your Startup Menu when trying to boot a FixMeStick scan, even though it is plugged into your computer.
Index:
Factory Upgrading Your FixMeStick
Sometimes, the FixMeStick works better using different USB ports on your computer. You can try different ports while in your Startup Menu to see if it will recognize the FixMeStick.
1. Insert the FixMeStick into a USB port while the computer is shut down.
2. Press the power button, and then immediately start holding down on the Alt/Option key until you see your Startup Menu.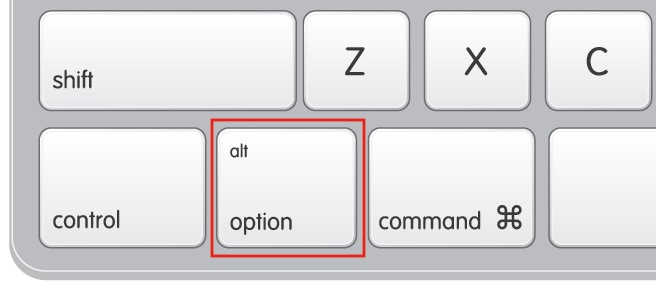 3. If EFI Boot does not appear as an option, then unplug the FixMeStick while still in the Startup Menu and insert it into a different USB port. It should look something like this:
Repeat Step 3 with every available port until EFI Boot appears. 

Tip: It helps to insert the FixMeStick directly into the computer rather than a USB hub.

If it will not appear in any of your USB ports, then move on to the next solution.
Factory Upgrading Your FixMeStick
1. With your computer on and your FixMeStick plugged in, click here to download the factory upgrade.
If you are using Google Chrome, you will see the download appear in a toolbar at the bottom of your browser.
Otherwise, you can find the file in the Downloads folder in your Finder, found in your Dock.

Double-click on the download, which should then open this window: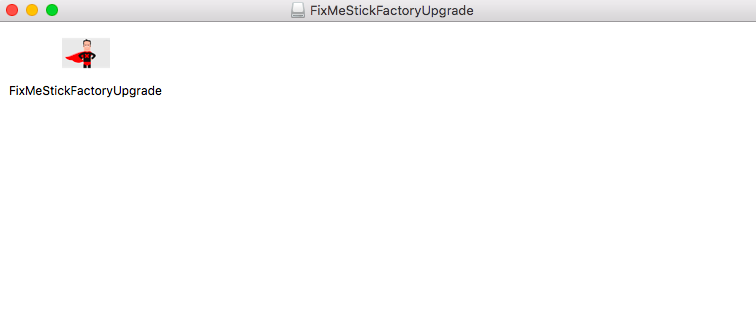 Right-click on the FixMeStickFactoryUpgrade icon, click Open, and then allow the application to open by clicking Yes. 
Note: your security preferences may require that you enter your password.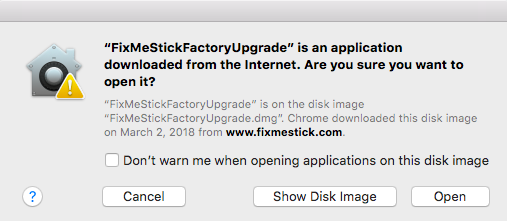 Now wait for the download to complete. It can take up to several minutes.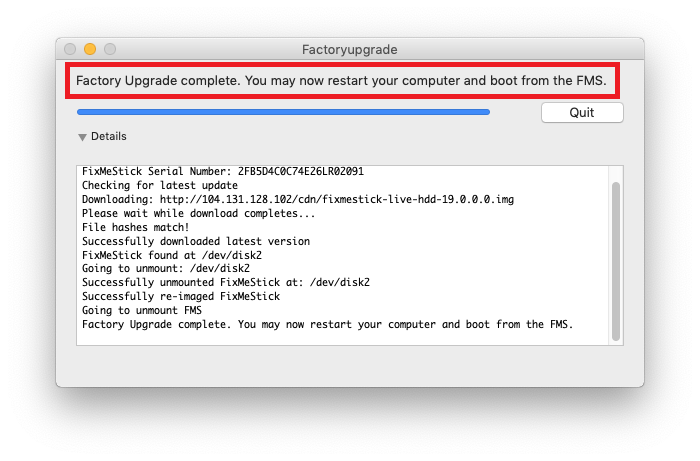 Once the window shows that the factory upgrade has downloaded successfully, then shut your computer down and try starting a scan over from the beginning.