This article will explain what step to take in the event that you receive a message in your scan saying that you need to complete a factory upgrade because your Mac computer uses APFS.
APFS is a file system format for Mac computers with High Sierra, and we recently updated the FixMeStick software to be compatible with it. However, if your FixMestick has an older version of the software, it will not be able to read your files. You will need to upgrade your software in order for the scan to complete successfully.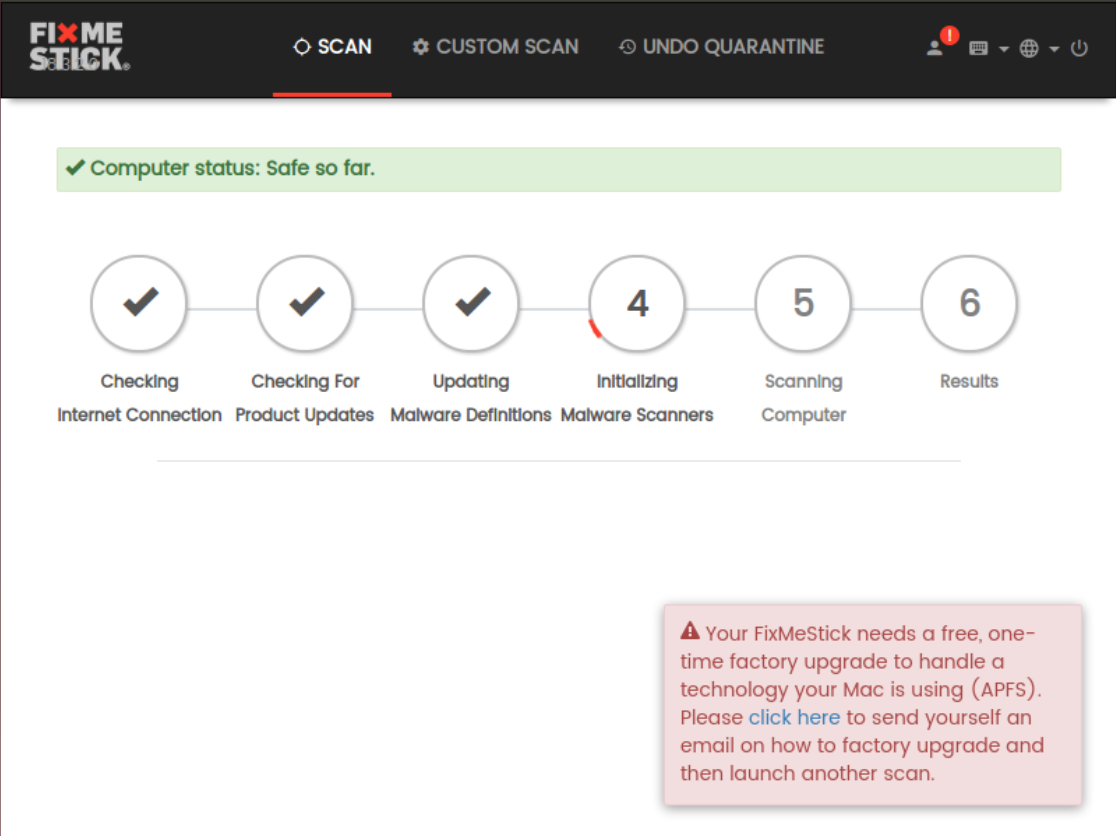 Index:
Factory Upgrading Your FixMeStick
Completing a Scan on Your Mac with APFS
Factory Upgrading Your FixMeStick
When you are in the scan and can see the message about factory upgrading your FixMeStick to handle the technology your Mac uses, click on click here and then enter your email address. Then exit the scan and power down your computer, and restart it normally. Once you're back in your operating system, you can open your email inbox and follow the instructions below.
1. Click this link in order to download the factory upgrade.
2. If you are using Google Chrome, you will see the download appear in a toolbar at the bottom of your browser.

3. Otherwise, you can find the file in the Downloads folder in your Finder, found in your Dock.
4. Double-click on the download, which should then open this window: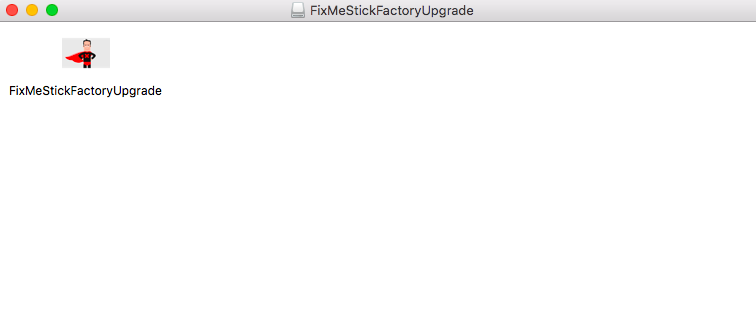 5. Right-click on the FixMeStickFactoryUpgrade icon, click Open, and then allow the application to open by clicking Yes.
Note: your security preferences may require that you enter your password.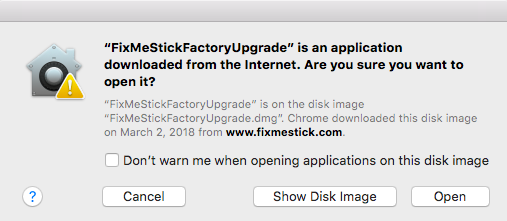 6. Now wait for the download to complete. It can take up to several minutes.

7. Once the window shows that the factory upgrade has downloaded successfully, then shut your computer down and start your scan over from the beginning.

After you factory upgrade your FixMeStick software, you can then run a scan normally by following the directions here. Once it's finished, it will ask you to enter your email address to see your results. After doing so, you can click on Exit FixMeStick to shut down your computer, and then remove the FixMeStick and restart the computer normally. An email will be sent to you that shows the threats that the scan found with instructions for how to remove them.