In this article, we will show you how to print documents and files from your StartMeStick. If you are having trouble printing, try these troubleshooting tips.
To learn how to receive, edit, share, and print text documents on your StartMeStick, click here.
Adding Your Printer
Before you begin printing, you have to ensure your printer can be discovered by the StartMeStick. This involves going into the settings of your StartMeStick home page and then manually adding the printer.
You can do this by following these instructions below:
Click on the Start button at the bottom left-hand corner of your screen.




Click on Settings, followed by Devices listed on the left-hand side of the window.






Click on "Printers":
Click on the "Add a Printer" button.




Choose the name of the printer you would like to add, followed by the "Add" button.




If you have already added a printer and would like to add a second one, click on the '+' sign at the bottom left-hand corner of this page.




You have successfully added your printer! You can proceed with printing your files or continue reading below for troubleshooting tips if you are still having issues printing from your StartMeStick.
Troubleshooting
I'm Seeing Multiple Names for the Same Printer
Sometimes you will see multiple names for the same printer.
You must select the printer name that does not have the word 'Address' in the subtitle underneath it. For example, in the image below the Printer MFC-L5800DW shows up twice. The one you'll want to choose is the name that does not have an address printed below it.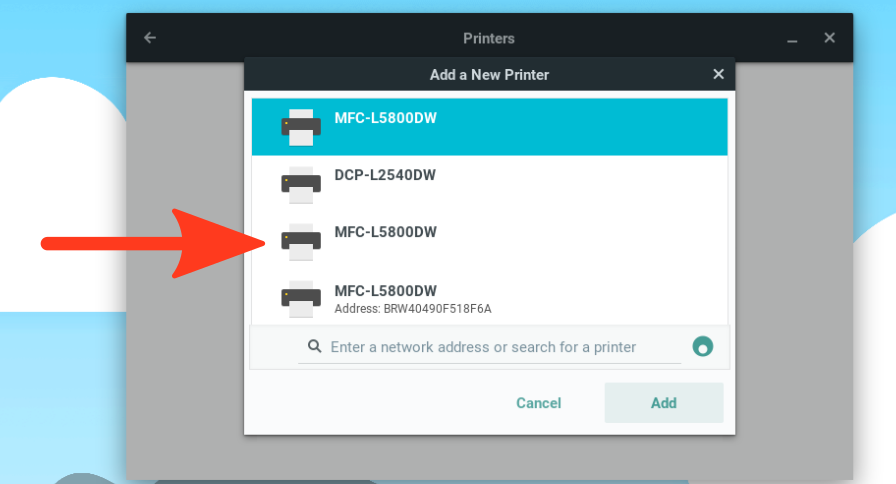 Left-click to highlight this printer and then click on the 'Add' button. This should bring up a new window where you can see how many jobs are in the queue for this printer.
No Printer Names Are Showing Up
If you don't see any printer names, or if you are seeing the message "No printers detected", here are some ways you can troubleshoot this issue.
In order to print to a wireless printer, you must be connected to the internet first. The first thing you should do is to check your internet connection.
Click on the battery icon at the bottom right-hand corner of your home page. This should bring up a small menu with your Wi-Fi, Bluetooth, and other settings in it.
Click on Wi-Fi, followed by Turn On and then select the name of your Wi-Fi network.
I Don't Know the Name of My Printer
If you don't know the name of your printer, try checking the user's manual that came with your printer to find its name, model number, and serial number.
Sometimes, the name of the printer can also be printed directly on the printer itself, so all you need to do it look around your printer to check it. You can also contact your printer's manufacturer if you are still unable to find out.
My Document Did Not Print
If your document did not print after you sent it to the printer, the first thing to check is whether your printer has enough printing paper and ink.
If your printer is running out of paper and ink, be sure to refill those before you send another document to your printer.
If there is an active print job in your printer's printing queue, click on Show Jobs to see whether your printer has successfully printed this page or not.
If you are still having trouble getting the document to print, click on "Print a Test Page" in the Print settings first.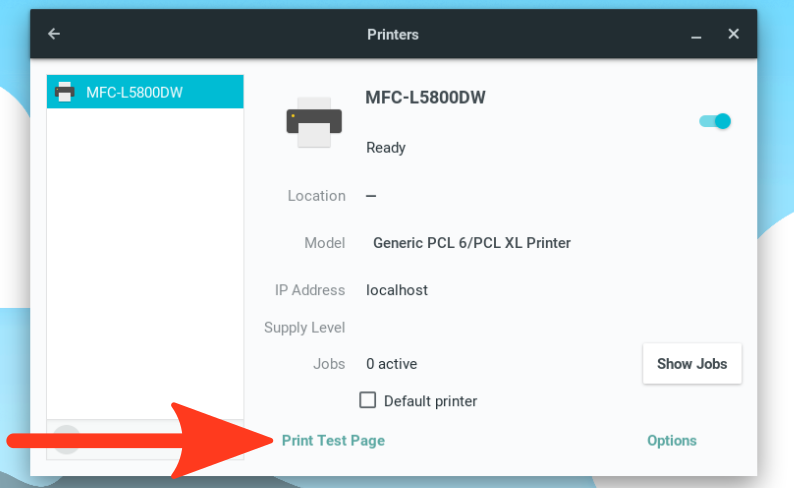 After you have successfully printed out a test page like in this picture, try printing your document again. If you are still unable to print, contact support@fixmestick.com or your printer's manufacturer to help you troubleshoot this issue.